All seven members of the Green Charter Township elected leadership are facing recalls after language was filed with Mecosta County Clerk Marcee Purcell Friday afternoon.
Residents are seeking to remove Trustee James Peek "Because Peek voted yes to approve a resolution adopted by the Township Board of the Township at a meeting held on the 13th day of December 2020 titled, 'Charter Township of Green, County of Mecosta Resolution No. 01-122022, a Resolution to support Gotion inc. and their bringing their industrial project to Green Charter Township."
Identical language was filed against trustees Gary Todd, Dale Jernstadt, Roger Carroll, as well as Clerk Janet Clark and Treasurer Denise MacFarlane.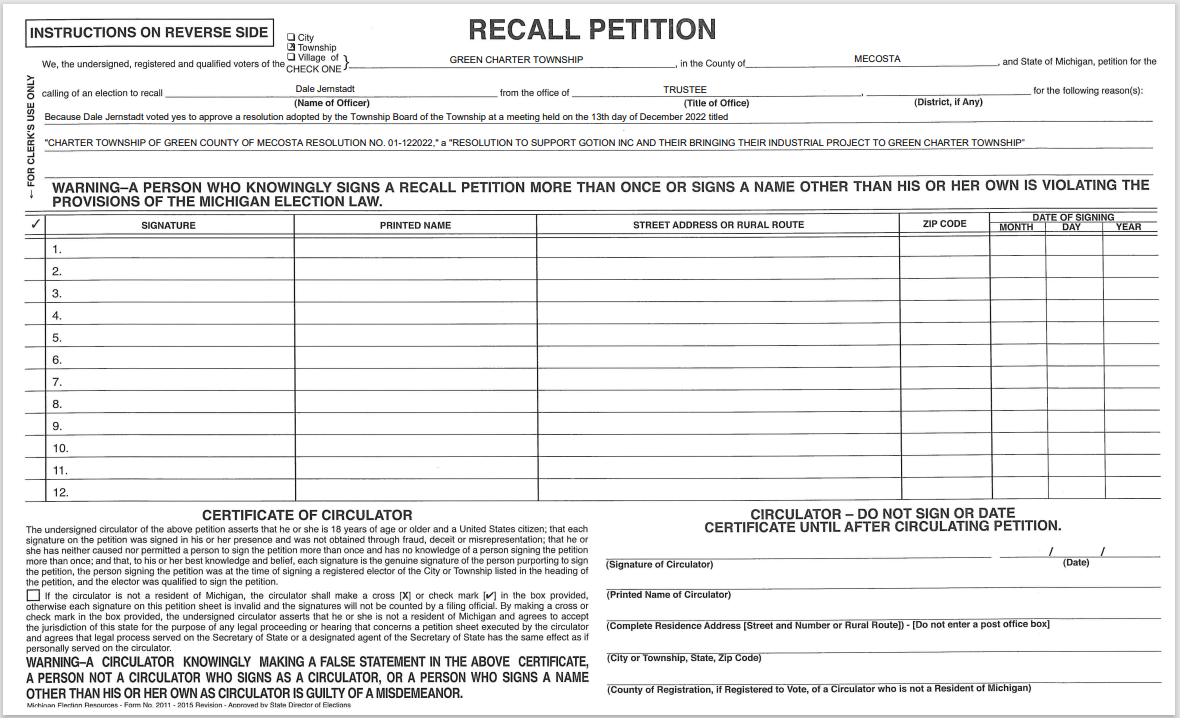 Organizers submitted new language against Supervisor James Chapman because the supervisor's attorney objected to the meeting being described as "special". Chapman's petition language now matches the others.
The county is required to hold a clarity hearing within 20 business days "to review the language of the recall petition for accuracy." If it is approved, organizers will be able to collect signatures to force a recall vote on the elected officials.
The recall attempts come as residents are increasingly opposing the group's collective attempt to bring Gotion High-Tech, a Chinese battery maker, to the community with $715 million in state taxpayer cash and tax incentives.
Chapman's behavior during the secretive process, along with that of Trustee Dale Jernstadt, has roiled the community.
When an attendee attempted to ask a question before a recent hastily arranged meeting, Chapman snapped:
"No questions for the board" says Green Twp Supervisor Jim Chapman to a resident's question during this AM's public meeting. This comes fresh off the promise of greater transparency from local officials following concerns related to CCP-linked Gotion. pic.twitter.com/WIwATRXolo

— The Midwesterner (@Th_Midwesterner) April 7, 2023
At another meeting — which was forced outside due to the large number of residents who attended — Jernstadt appeared to mutter, "What a bitch," after being castigated by a speaker during public comment:
WATCH: Green Twp. Trustee Dale Jernstadt after woman criticizes board during public comment: 'What a bitch'

Jernstadt supports bringing a CCP-linked battery plant to the community amid growing opposition. pic.twitter.com/5aeRo8mAnV

— The Midwesterner (@Th_Midwesterner) April 12, 2023
Hundreds of residents and supporters turned out to a rally in Green Charter Township last Saturday. Watch it here: